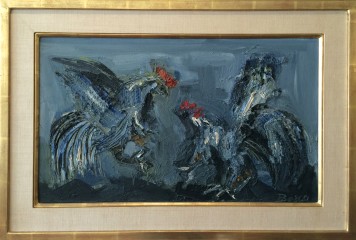 Oil on canvas 27″x18″ Cock Fight 1955
Biography
"Whatever be the subject, the façade of a cathedral, hurdle races, a reclining figure, Bosco almost always contrives to evoke that deeper resonance of life which is not to be seen on the surface."
Art News and Review, March 16, 1957
Pierre Bosco, descendant of the famous Della Rovere family, was born on January 29, 1909 in Visco, the province of Udine in Italy where he grows up with his seven siblings.
At an early age, he develops an interest in images, probably by contemplating at the church frescoes or religious scenes on the houses' facades – symbols of popular piety in Italy. When he was eight, his mother buys him a box of coloring pencils during a trip to Trieste, a gift that will be decisive, according to him, for his career. At fifteen he earns some money by painting a Flight into Egypt, a fresco damaged by the storm, and Madonnas on the walls, according to his country's ancestral traditions.
His father had imagined for the young Pietro a career as an officer of the merchant marine, and thus encouraged him to study to become a telegraph operator officer. He enrolled for his military service in Sardania as a telegraph officer. His lack of motivation for his study and ever growing interest for paintings takes him to Genoa and then Rome where he becomes a religious paintings restorator and learns the secret techniques of great painters. His early works already show a natural sensitivity to color and a willingness to give volume to images, which will become his artistic signature.
When he first discovers paintings of Cézanne, Pissarro, Gauguin and Rouault, he's convinced that his future is in Paris, where the "bohemian" lifestyle attracts painters and sculptors from around the world. At twenty-two he decides to leave his native Italy and move to Saint-Germain-en-Laye where he attends diligently the schools and painting workshops of the capital. He meets his neighbor, Maurice Denis, and then some of the most well-known artists such as Pierre Bonnard, André Derain, Aristide Maillol, Edouard Vuillard and his brother-in-law, the painter Nabi Ker-Xavier Roussel, who becomes his great spiritual master and with whom he will discover his own artistic personality. This encounter will completely transform the young artist's experience, which is filled with academic models. He's independent by nature; not very fond of social niceties he stays away from pictorial trends and styles. He is not afraid of social current, but doesn't accept that it is being imposed on him.
Pierre Bosco, around 1929.
Bosco in his studio in Saint-Germain-en-Laye.
Bosco in his studio in Saint-Germain en Laye.
Tal Coat, Jean Bazaine and many others, Bosco experiences pure abstraction but he realizes that he ends up making more or less the same paintings with this form of art. For an artist in search of new experiences, abstract art is "an easy way to be locked in a system". However, abstract art continues to be part of his work but mainly on paper.
In 1956 Bosco meets Alex Maguy, a famous collector and owner of the Galerie de l'Elysée. The 45-year old painter's arts had reached a maturity that is appreciated by a large public of art connoisseurs. He signs a contract that binds him to this art dealer for fifteen years, then prepares a major exhibition for the following year.
The press is unanimous, praising his "dazzling visions". Robert Vrinat, journalist for Le Figaro's newspaper, considers him "as one of the greatest painters of his generation". Americans see him as "the latest Picasso in perspective, and very much in vogue" (New York Herald, May 14, 1957).
In 1957, Bosco is well known to the affluent elite of the French capital. He appears in numerous laudatory articles written by famous poets like Pierre Seghers, Jean Cocteau and Marcel Sauvage – who will dedicate a poem to him – including his cousin Henri Bosco of the Académie Goncourt, and the journalist and writer Louis Nucéra.
Bosco's work stands among those of the biggest names in contemporary painting: Chagall, Braque, Picasso, Matisse, etc. This collaboration opens new doors to him: he participates in radio shows; his paintings enter permanent collections of museums. Once introduced to the American Jewish community, Bosco attracts financiers, lawyers, actors and film producers.
The exhibition at the Matarasso Gallery in Nice attests to his success in Paris. In 1958 more shows are organized in Clermont-Ferrand, Strasbourg and La Baule in the famous casino.
Three figures, 1939. Oil on canvas.
This new fame comes with increasing demand from Alex Maguy to produce more paintings that are best sellers and this was not quite in line with his personal aspirations and style. Bosco decided to limit his production; and in 1959 the 15-year contract was terminated.
That same year, the Marquis de Langle, an art collector, organized an exhibition at the Galerie Di Meo in Paris gathering writers, diplomats and generals. On this occasion Bosco meets his Royal Highness the Prince of Greece and the Duke of Broglie. In 1960, the artist marries Madeleine Poire and both travel to New York for their honeymoon and see a major exhibition at the Norval Gallery where all his usual collectors gathered for the occasion.
The New York Herald Tribune praised the event. Because of this success the painter extended his honeymoon in the Northeastern United States. After his return from the US, from January 28 to February 16, 1961 the Athénée museum in Geneva devotes a major exhibition to him. This is also the year that his first son Pierre Luca was born.
Private collectors are snapping up his paintings, including Joseph H. Hirshhorn, a wealthy American industrialist and art collector, known as "the King of Uranium" who made several acquisitions. We can also find Bosco's paintings in the private collection of celebrities such as the American actor Kirk Douglas – who acquired seven paintings (among them an Harlequin and a Regatta), Robert Mitchum, Jack Palance, Lord Beaverbrook (Sir Winston Churchill's friend and confident), former French President Georges Pompidou, singers and sportsmen.
In 1959 Bosco met Yves Thomas, owner of the gallery La Belle Gabrielle, located close to the Place du Tertre in Montmartre, with whom he would immediately befriend. A tacit agreement between the two men will seal their collaboration for 25 years during which Bosco is committed to deliver four paintings per month illustrating popular themes such as cathedrals, cockfights, cyclists and horse races.
The war years are difficult years. In 1940 Bosco befriends the painter André Marchand. He manages to make a living by selling occasionally and with the help from his family. However, he has his first solo exhibition in Paris in 1943 at the Galerie Roussel, boulevard Saint-Germain, but continues to pursue his work austerely in the silence of his studio. When his father dies in 1945, the painter returns to Italy to be with his family for some time after fifteen years of absence. After this homecoming, he returns to Paris in 1946, painting and making a living as an art restorator.
He finally gains success and recognition in the fifties. He creates in Saint-Germain-en-Laye the Independent Painters' Association (API) which gathers painters like Jean Souverbie, Roger Chastel, the Vera brothers, Clave, Gomery and Edoardo Samartino. After participating in the first Biennale del Mare in Genoa, he exhibits his work at the Gallery Vivet in Paris in 1952.
In 1953 he participates in the Third Sacred Art Exhibition at the Paris Museum of Modern Art where his painting Descent from the Cross receives high praise. The following year he exhibits fifty paintings at the Galerie du Hérisson in Saint-Germain-en-Laye to an enthralled public, especially Pierre Seghers – a well-known poet and publisher.
The Press associates the paintings of this period to "bewitching magic". On the occasion of this exhibition, Bosco meets the poet Guy Lavaud with whom he befriends. To him, Bosco is a powerful painter and a visionary. For three consecutive years the painter is selected for the prestigious Otto Friez price at the Museum of Decorative Arts in Paris. In 1955, the Gallery M. Forein in the Faubourg Saint-Honoré invites Bosco for an abstract art exhibition that he refuses to participate after careful thought. At a time when abstract art emerges into the School of Paris, influencing young painters like Alfred Manessier, Pierre
This repetitive production will not stop him from participating in exhibitions abroad. Far removed from mainstream trends, Bosco prepares a major solo exhibition in 1963 that encountered great success. On this occasion several newspapers such as Le Figaro, Libération, l'Humanité and Paris-Presse published laudatory articles. In the literary magazine Carrefour, the author states: "The savage art of Bosco bear its rudeness and its mystery. It is an art of pure expression that is not made to please, of course, but whose sincerity cannot do anything but capture your attention ».
Similarly, in Les Lettres Françaises literary magazine it is written that "Bosco's paintings are filled with a mysterious atmosphere, a tragic expressionism". This year also marks the birth of his second son, Marc Antoine.
In 1964 he exhibits at the Max Bodner gallery in New York; his paintings were presented among those of Marie Laurencin, Picasso, Signac, Pissarro, Renoir and Rouault. From 17 April to 2 May, along with the painter Yvonne Mottet, Bosco showed a Horse Race, Birds, Footballers and a Cockfight at the Galerie du Carlton in Cannes. The following year, he presents forty recent works at the Wamper Gallery in Cologne (Germany). In April 1967 Bosco is awarded the Silver Medal of the City of Paris and in June he is made Chevalier de l'Ordre des Arts et Lettres (a distinguished award from the French ministry of culture). Stéphane, his third son, was born that year. The end of the decade is marked by European exhibitions at the Gallery Il Tibbio in Trieste (Italy) and at the Corner Gallery in London. In 1971 he holds a major exhibition at the gallery La Belle Gabrielle.
The new decade is marked by a group exhibition at the Palais de Chaillot in Paris on the theme of "Jesus Christ" that leads to an eulogistic article in the newspaper La Croix and various solo exhibitions in Metz, Paris (Capangela and La Belle Gabrielle galleries), Versailles (Galerie Grand Siecle), Cannes (Galerie of European Painters) and Denmark at the Schack Gallery in Tordenskjoldsgade.
He is now internationally renowned; in 1979 a traveling exhibition makes a triumphant success in Dallas, Houston and San Francisco with 38 paintings and 10 gouaches mainly on the theme of sport. In 1981 Bosco travels to Ireland, Rhodes, the United States and Mexico where he truly appreciates its archaeological richness. More than anything he values the cultural diversity that is a source of inspirations for generating new ideas and new forms. The following year he receives the Diploma of Merit from the University of Art in Florence. Two solo exhibitions are presented that year at the Vera Museum in Saint-Germain-en-Laye and at the Galerie de la Colonne, Place Vendôme in Paris. In 1985, the artist exhibits at the Gallery Göran Svensson in Stockholm and several other cities in Scandinavia.
Bosco's family in Saint-Germain en Laye.
In early 1986, the artist creates a mural, a car race, in the lobby of the Bendix Research Plant in Drancy. In the fall of 1986, he exhibits four paintings in the Hippodrome of Longchamp for the Prix de l'Arc de Triomphe, the French prestigious horse race.
Despite his real aversion to leave his studio, Bosco travels to the West Indies in March 1988. On this occasion he produced a series of sketches.
During the summer of 1988 a serious accident plunges him into a coma. He is hospitalized for two months. In November, a solo exhibition at the Château of Maisons-Laffitte shows 30 paintings, 24 gouaches and pastels covering more than a quarter century of work. Nearly 300 people attended this unique evening.
Pierre Bosco dies on March 3, 1993 at the age of 83 and is buried at Saint-Germain-en-Laye cemetery.
A prolific artist – over his career Bosco has made more than 6 000 paintings, not to mention the innumerable works on paper: pastels, gouaches, watercolors and drawings. Pierre Bosco occupies a privileged place among American and European collectors, particularly in France and Italy, but also in Scandinavian countries through the work of publishers (M. Mosser, Schack and Svensson). His works are also found in the permanent collections of museums: Museum of the City of Paris, Tel Aviv (Israel), Caramulo (Portugal) and the United States.
source:
Frederic Asse
www.pierrebosco.com