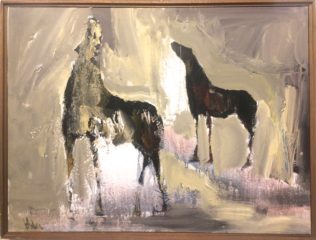 Gino Hollander (1924 – August 27, 2015) was an American painter. He began painting in New York City during the abstract expressionist movement.
In the mid-20th century, he was a successful filmmaker along with his wife Barbara Hollander before he started painting in 1960, during the abstract expressionism movement in New York City. He became one of the group that defined this movement and whom all hung out at the famous Cedar Tavern. Acrylic paint was just emerging at that time, and Hollander was among the first to explore its possibilities. From 1960-1962, he had his studio and the first Hollander Gallery on Bleecker Street, in Greenwich Village. During that time his paintings sold to the likes of Jacqueline Kennedy, Steve McQueen, Norman Rockwell, and Ralph Lauren.
Despite having experienced initial success in New York, Hollander moved withown his family to Spain in 1962, to find his voice in painting. He often bartered paintings to support his family while he continued developing his style. Hollander and his wife Barbara took their children on archaeological trips, following the road construction crews which were building new highways throughout Spain, unearthing ancient treasures. They created Museo Hollander, renamed Pizarra Municipal Museum, located in an old Cortijo. The museum was to exhibit this collection of Spanish artifacts that span along with Hollande paintings. In 1990, the Hollanders donated their museum to the government of Spain and were nationally awarded in honor of the King's birthdate a Medallion de Plata for contributing to the country's growth in tourism.